Hey minna !!! Bored ? Let's play TCG !!! XD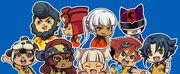 Rules ~
You have to upload or PM me 3 ~ 4 TCGs to participate before the closing date.
I will make a timetable after everyone has submited their TCGs.
You can only vote for 1 person in the 1 VS 1 round and 2 ~ 3 persons in the 1 VS 3, 1 VS 4, 1 VS 5 or 1 VS 6 rounds.

You all can start sending me the TCGs. The closing date for you to PM me the TCGs is on 26 May so you have 1 week to do it.
Finally ~ Enjoy !!! XD
Ad blocker interference detected!
Wikia is a free-to-use site that makes money from advertising. We have a modified experience for viewers using ad blockers

Wikia is not accessible if you've made further modifications. Remove the custom ad blocker rule(s) and the page will load as expected.